Where do the World's Best Companies Recruit MBAs?
Want to know which of your favorite companies recruit at which MBA programs? We've got the inside scoop right here.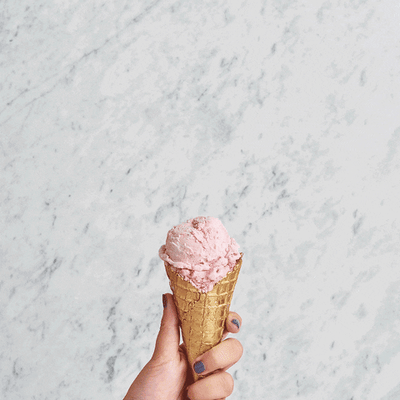 If you haven't already, please be sure to check out our in depth insights into function and industry data. And download our complete What's the Best MBA Program for You? report. But if you already have an idea of which specific companies you might want to work at post-MBA, you'll want to read on! 
Let's start with a list of companies that hire MBAs from more than 9 MBA campuses. You'll see that these are generally pretty big firms. That's because recruiting MBAs from many different campuses requires time and resources that, in general, only bigger companies can afford. Especially if they do a lot of on campus activities, they will typically send representatives from their companies to host information sessions, conduct interviews with candidates, and plan recruiting events. 
Not all of these firms invest the same level of resources on every campus – schools don't publish information about that. But what we can say is only a handful of companies like Amazon, Google, and Deloitte manage to hire MBAs from more than 20 campuses!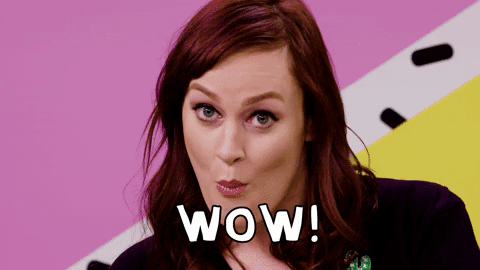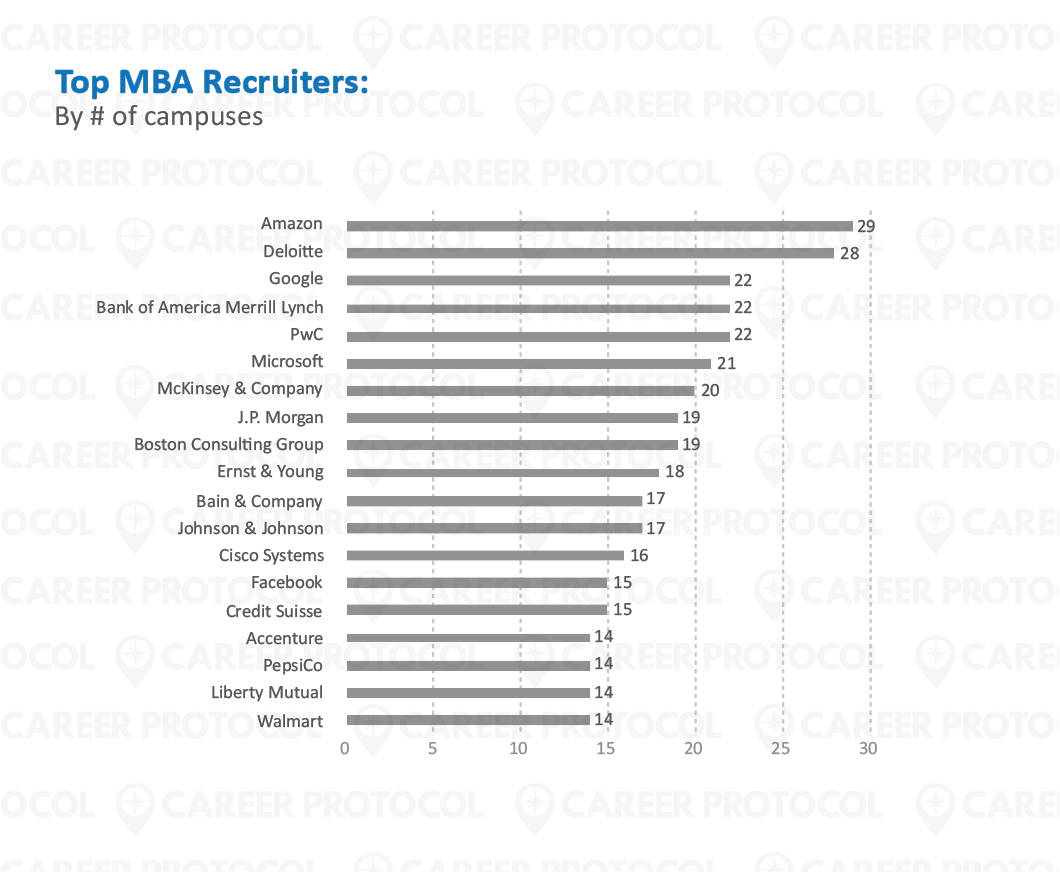 Another interesting data point to look at is the aggregate number of companies that hired at least one student from each MBA program. We compiled those numbers and compared them to the number of students on campus so you can get an apples-to-apples comparison, even though some schools included internship recruiting in their company lists.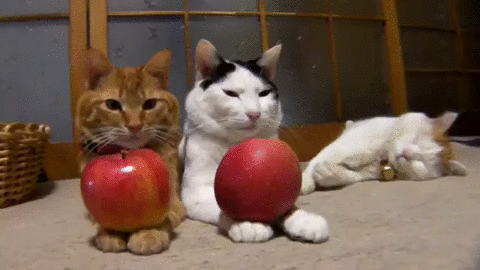 This chart represents two things: 1) the diversity of recruiting options by MBA program, and (2) an indication of the volume of "networked job searches" that occur by MBA program.  
For example, Tepper and Booth have the highest ratios, since the number of companies they sent graduates to is quite high, compared to the number of students. This means that their students end up at a highly diverse batch of companies. This could mean that more students are conducting their own networked job searches, or that the school brings a high number of recruiting companies to campus.  
Whereas schools like Ross and Fuqua, with ratios of ~0.30, send approximately 3 students to each company. This likely means more students are ending up at companies that come to recruit on campus, rather than finding jobs and companies on their own.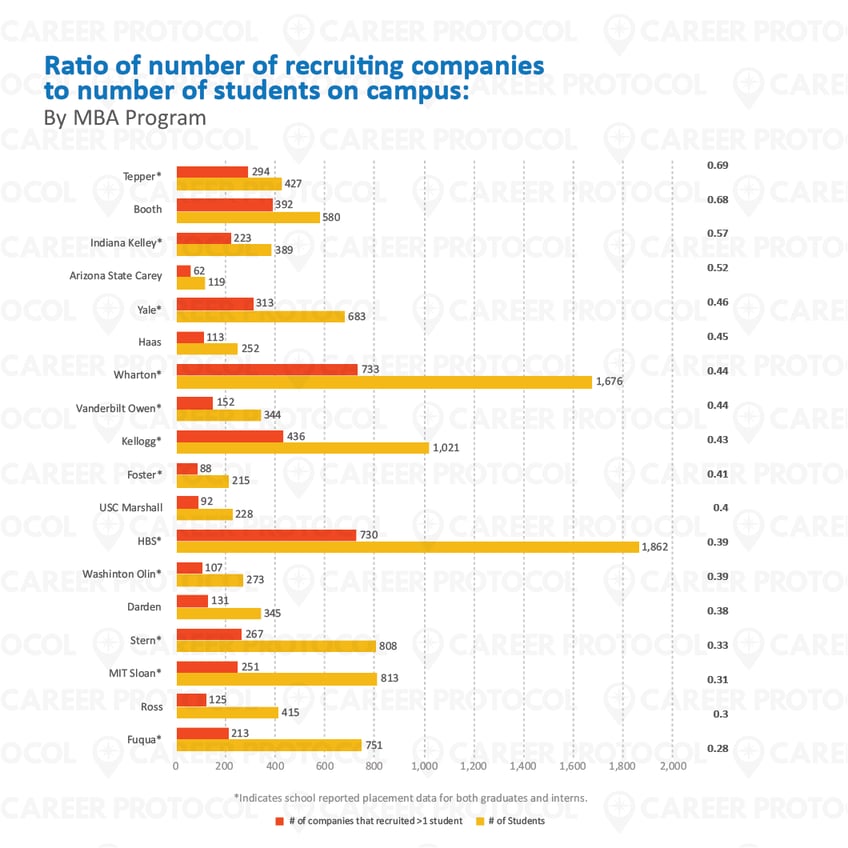 Note: We only included schools in this chart that reported all of their placement data. If a school only reported "top hiring companies," we excluded it from this chart. If a school reported hiring companies for both internships and post-MBA job placement combined, we calculated the ratio using the total number of students across both years.
The Best MBA Programs For Specific Companies
What if you already have a specific dream company in mind? Say you want to work at Amazon or Google? Awesome! Luckily Amazon and Google recruit on nearly every MBA campus! In this first chart below, you can see the busiest recruiters. These are the companies that recruit from the most MBA programs. It's not surprising that the M7 make up most of this list, but it's also fun to see that Ross, Duke, and Tepper are right up there, with incredible recruiting opportunities at these major companies.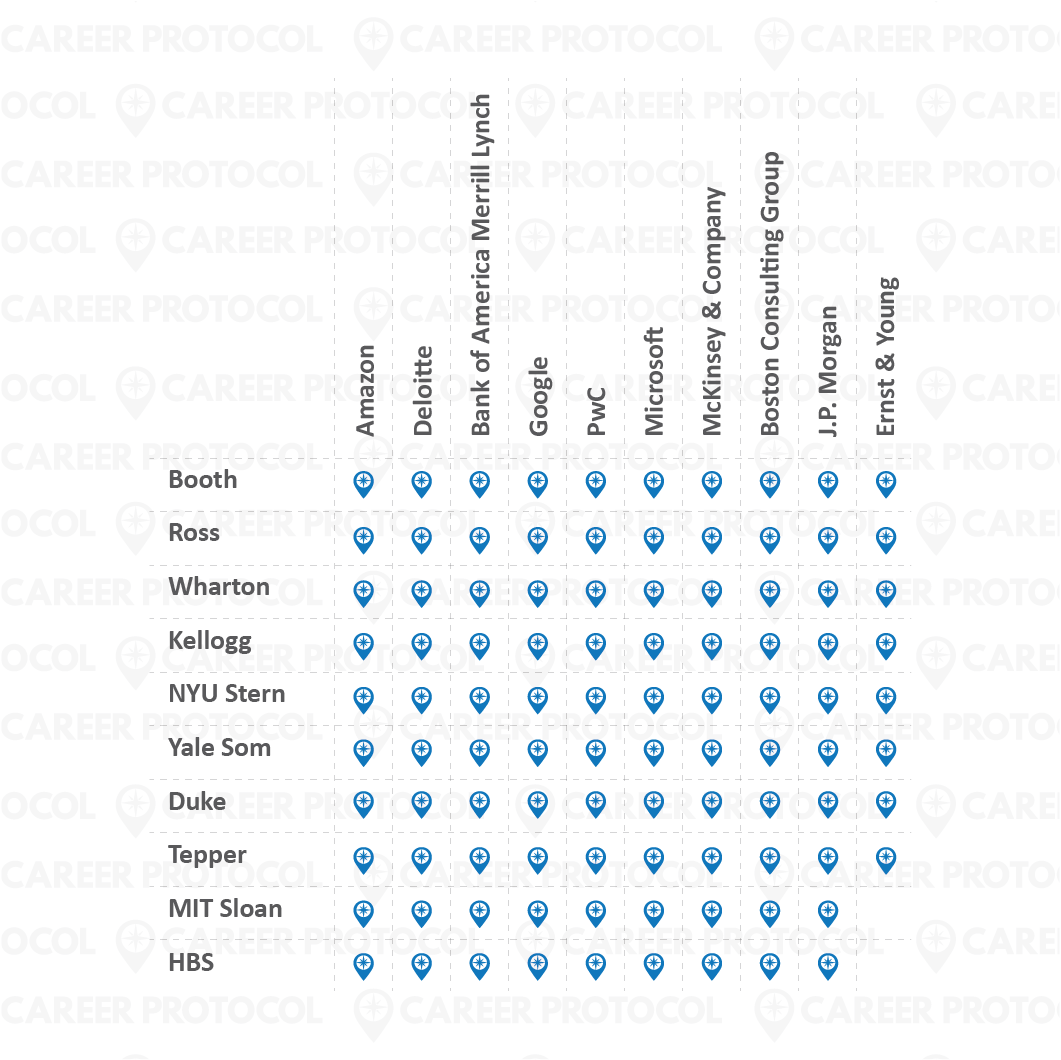 Note: We only included schools in this chart that reported the names of hiring companies. Stanford, notably, does not disclose this information publicly.  
Besides the big-name companies, we also wanted to compile a list of some other "cool / trendy" companies to see where they recruit. You'll notice that two schools that send grads to some of the "coolest" companies aren't in the M7: Yale and Duke – a good data point to keep in mind if you want to work at these companies!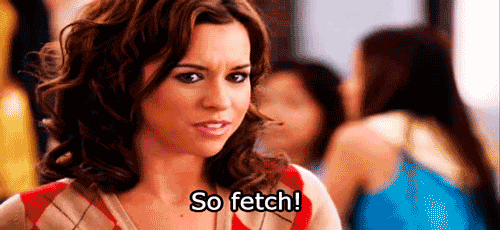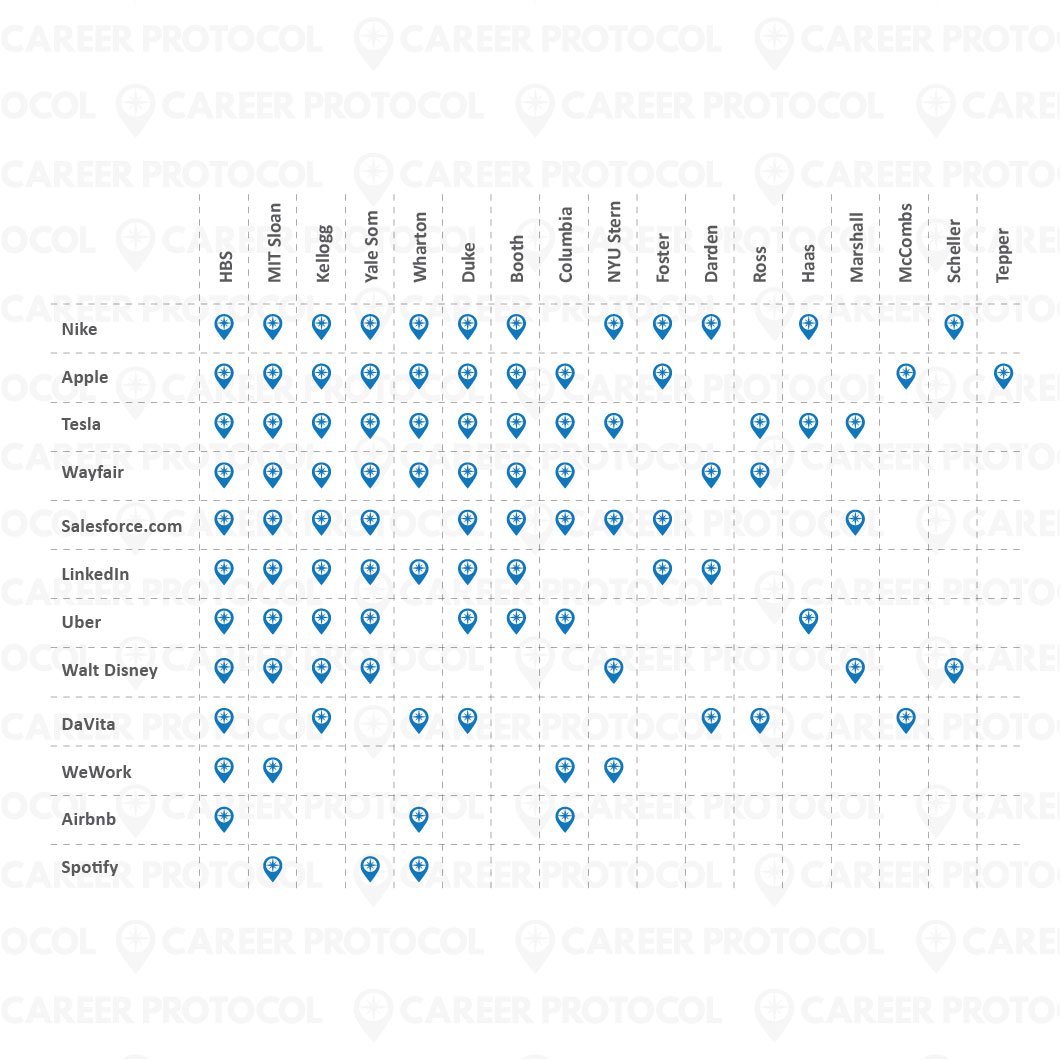 And remember, just because a company doesn't recruit on campus doesn't mean you can't get a job there! The chart above doesn't necessarily show who recruited on campus; instead it shows companies that hired at least one grad from these MBA programs. In many cases, especially for smaller companies like Spotify or Airbnb, the graduates likely had to do their own legwork to network with these companies and get offers independently. So even if your dream company doesn't recruit on your campus, it's not the end of the world! You'll just have to do a bit of extra work to get in front of those companies.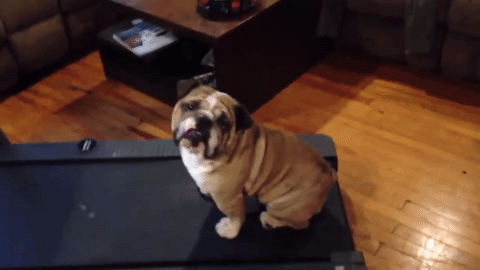 Usually all it takes is one foot in the door – ideally through a personal introduction – and then you just have to show them your passion for the business and why you're qualified. A growing business such as Airbnb or Spotify is constantly hiring, so just get in front of them and show 'em what you've got!  
The Best MBA Programs for Getting a Job, Any Job!
One last – very important – piece of data!! What's the likelihood that you're going to have a job when you graduate?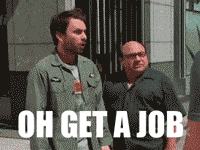 Surprisingly, this varies significantly by school!! We looked at employment rates at graduation, and again 3 months after graduation – since a lot of students continue to recruit after they graduate (especially for smaller companies or start-ups) – and compiled the data for you below.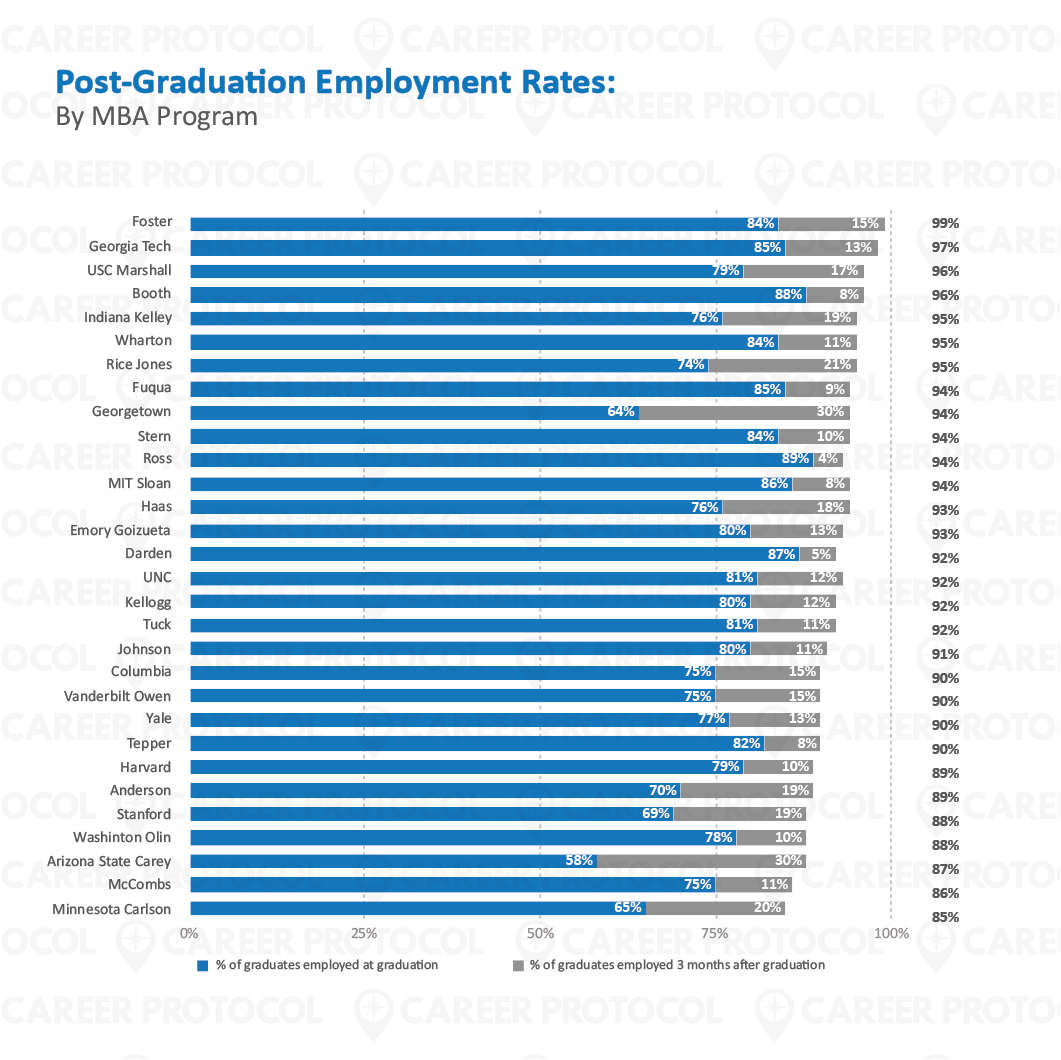 As you can see, Foster has the highest placement rate of any school, with 99% of grads employed within 3 months of graduation, followed closely by Georgia Tech. Surprising, right? This might be news to you, but it's important to know that Career Services at some of the top MBA programs are not as helpful as you might think!  And even when they are as helpful as possible, the onus is still ultimately on you to leverage those resources to get your dream job. 
Georgetown, Stanford, and Anderson have some of the lowest employment rates, with 70% or fewer students employed at graduation! This can be caused by a number of factors, including students waiting to decide their career path until after graduating.  As you can see, three months after graduation, at least 85% of students are employed, across the board.  
Again, just some helpful stats to keep in mind as you're considering different programs and chatting with Career Services offices.  
Head on over to our Ultimate Guide to Getting into Business School for more insight into how to navigate your research process and out together a compelling career game plan that inspires your target schools.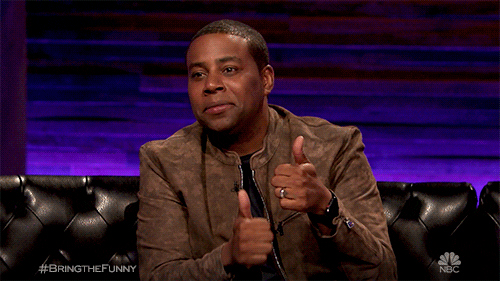 Or even better, download the full career report to get all the information your heart desires about your favorite MBA schools.